《自我介紹》
本公司由 80 年代開始,對建築物維修及防水補漏工程不斷改善技術等問題。
凡是經本公司修補之工程定必有保養及法例的保証。
本公司有三隊專科人員:
1. 專科樓宇執漏。(因外牆、窗邊、浴室、天花及地庫等滲漏問題)
2. 專科大廈修葺:處理外牆批盪及爛石屎(紅外線勘探工程)
3. 處理違例建築物(包括處理與屋宇署往來信件):※屋宇署在違例建築加強執行,
本公司在處理這問題有多年經驗,特別是工商大廈。
本公司持有政府屋宇署牌照 (RGBC) 合資格承建所有小型工程及品質認證 ISO9001,本公司組織架構包括專業認可工程師及專科大學生,合格工程及地盤安全監督人員,直接技術工人等服務。上述工作每年為數千間住戶、業主立案法團及各大小型廠廈等服務及維修結構爛石屎及漏水等問題。
本公司提供免費報價,歡迎 Email 給本公司,或致公司電話:2399 0292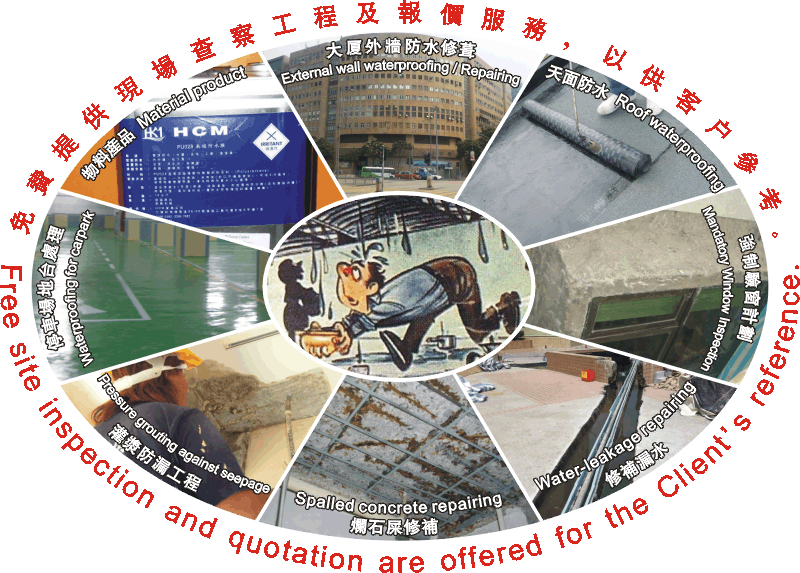 《Brief Introduction》
Starting from year 1980, our Company has engaged in buildings repairing and water proofing work. With our long-term experience, high technical level and ever-improving technology, we have 100% confidence in our work and can offer quality assurance and guarantee to our clients.
There are three technical teams in our company for the following works:
1. Waterproofing work to external wall, windows, bathroom, ceiling and basement.
2. Specialists for structural repair works. External wall plastering and concrete repairing including intra-red scanning.
3. We are experienced to carry out demolition works and renovation works for those illegal structures (especially commercial and industrial Buildings) - such as drainage connections, podiums, metal cages, air-conditioning cooling towers, canopies, flat roof structure and roof top structures etc, requested by and under the enforcement policy of Buildings Department.
Our company possesses Government Building Department Licence RGBC eligible to carry out all the minor works under the minor works control system and quality assurance ISO9001. We have teams of professional engineers and technical staffs in various trades, each year we serve thousands of buildings or flat owners / Owner's incorporations about concrete repairing and waterproofing works and renovation works.
Free quotations are provided to our clients. Please contact us via e-mail to our company. If you have any problem, you may also telephone to our company at 2399 0292.